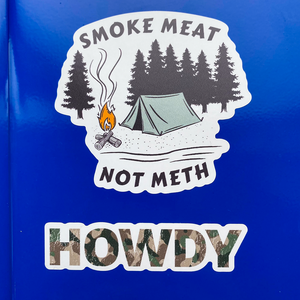 Smoke Meat Not Meth & HOWDY Camo Stickers (2-Pack)
SMOKE MEAT. HOWDY.
- Perfect for laptops, cars, guitar cases, water bottles, foreheads, vandalizing (just kidding).
- 3.5" in diameter
- easily apply or remove to any smooth surface (peel and stick)
- protective coating for extra durability
- Comes in a pack of (2) Stickers: Shown in picture.